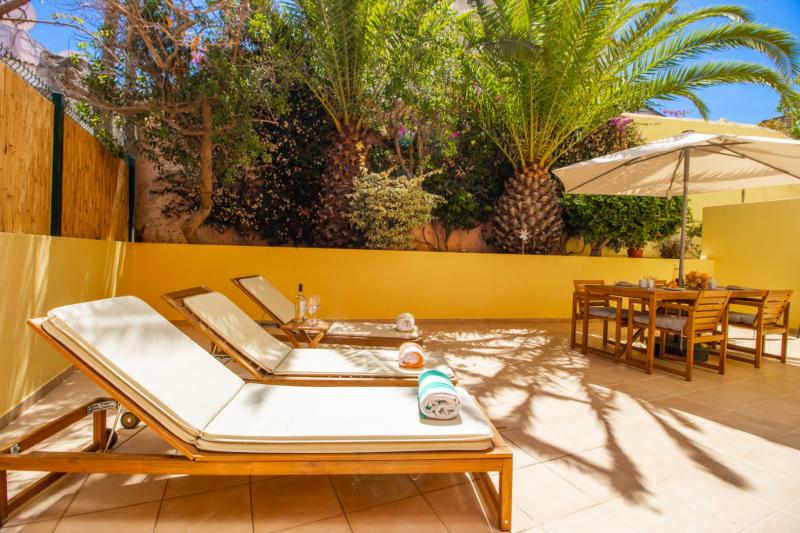 In the heart of Lagos is hidden this gem - modern and beautiful 2 bedroom apartment with a large ground floor Patio filled with beautiful plants, comfortable seating, sun-loungers and a gas BBQ set in the resort complex Pateo do Convento.
The highlight of this unique apartment is the private large outdoor Patio with a gas BBQ, outdoor table and chairs, sun-loungers and some beautiful plants. Enjoy one of the best private patios in Lagos! This space benefits from shaded & sunny areas perfect to escape the summer heat yet it receives plenty of sun in winter. The lounge with the dining area benefits of a large brand-new L shaped couch, wall mounted smart TV with complimentary movies. A Bluetooth radio and speaker is also provided for your entertainment. Modern designer kitchen with fridge, coffee machine, juicer, pots & pans and everything you need to cook with. There is also a dishwasher & washing machine. From the lounge and the kitchen you can also access a small side enclosed patio that features a coal BBQ and small table and chairs.

The master bedroom has a large king size bed, cupboard space & a guest safe, spacious en-suite bathroom with a bathtub, an under floor heating & a heated towel-rack. The second bedroom comes with two single beds & cupboard space along with direct access to the large patio. The second bedroom is serviced by a shower room.

The apartment features a high-speed fiber WiFi throughout (300+mbps), reverse cycle air-conditioning in each room and an underground secure parking space.

Pateo do Convento is an established luxury residential & resort style complex in the heart of Lagos. You can enjoy use of the underground parking, a large swimming pool surrounded by palm trees and sun-loungers along with a kids play area separate and contained from the main pool. The complex is situated on the edge of Lagos Old Town only a short walk to bars, restaurants, the Marina, beach, several shops & supermarkets that are only a stones throw away. Pateo do Convento benefits from being in short walking distance to all Lagos has to offer yet just far enough that you don't get noise from the town when its busy.

Available both for holiday and long winter rentals.



From:
€1,400/month
RATES:
*Rates shown refer to a minimum of 3 months between November and March. For other months/durations of stay, rates will differ.
Nº Licença Alojamento:
140120/AL
ENQUIRE NOW
PROPERTY MAP
ENERGY RATING: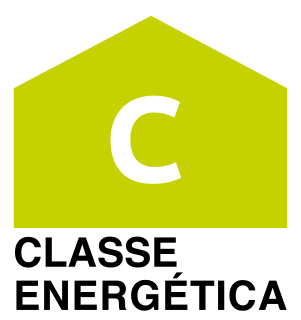 PROPERTY FEATURES:
Construction Area: 95m2
Equipped Kitchen
Private condominium - walled and gated
Air Conditioning
Private Patio
Safe
BBQ
Suitable for Children
Swimming Pool: Shared
Hairdryer
Iron & Ironing Board
Childrens Play area
Walking distance to bus & train stations
Coffee Maker: Capsule
Microwave
Walking distance to restaurants
Walking distance to the beach
Dishwasher
Washing Machine
WiFi Internet - High Speed (Fibre)
Elevator
En-suite bathroom
Parking: Parking Space In Communal Garage
Availability
September 2023
S
M
T
W
T
F
S

1

2

3

4

5

6

7

8

9

10

11

12

13

14

15

16

17

18

19

20

21

22

23

24

25

26

27

28

29

30
October 2023
S
M
T
W
T
F
S

1

2

3

4

5

6

7

8

9

10

11

12

13

14

15

16

17

18

19

20

21

22

23

24

25

26

27

28

29

30

31
November 2023
S
M
T
W
T
F
S

1

2
3
4
5
6
7
8
9
10
11
12
13
14
15
16
17
18
19
20
21
22
23
24
25
26
27
28
29
30
December 2023
S
M
T
W
T
F
S
1
2
3
4
5
6
7
8
9
10
11
12
13
14
15
16
17
18
19
20
21
22
23
24
25
26
27
28
29
30
31
January 2024
S
M
T
W
T
F
S
1
2
3
4
5
6
7
8
9
10
11
12
13
14
15
16
17
18
19
20
21
22
23
24
25
26
27
28
29
30
31
February 2024
S
M
T
W
T
F
S
1
2
3
4
5
6
7
8
9
10
11
12
13
14
15
16
17
18
19
20
21
22
23
24
25
26
27
28
29
March 2024
S
M
T
W
T
F
S
1
2
3
4
5
6
7
8
9
10
11
12
13
14
15
16
17
18
19
20
21
22
23
24
25
26
27
28
29
30
31
April 2024
S
M
T
W
T
F
S
1
2
3
4
5
6
7
8
9
10
11
12
13
14
15
16
17
18
19
20
21
22
23
24
25
26
27
28
29
30
May 2024
S
M
T
W
T
F
S
1
2
3
4
5
6
7
8
9
10
11
12
13
14
15
16
17
18
19
20
21
22
23
24
25
26
27
28
29
30
31
June 2024
S
M
T
W
T
F
S
1
2
3
4
5
6
7
8
9
10
11
12
13
14
15
16
17
18
19
20
21
22
23
24
25
26
27
28
29

30
July 2024
S
M
T
W
T
F
S

1

2

3

4

5

6

7

8

9

10

11

12

13

14

15

16

17

18

19

20

21

22
23
24
25
26
27
28
29
30
31
August 2024
S
M
T
W
T
F
S
1
2
3
4
5
6
7
8
9
10
11
12
13
14
15
16
17
18
19
20
21
22
23
24
25
26
27
28
29
30
31
Enquire about this property / Booking Request